Tomb of Sargeras
- Goroth

(H)

- Harjatan

(H)

- Mistress Sassz'ine

(H)

- Demonic Inquisition

(H)

- Sisters of the Moon

(H)

- The Desolate Host

(H)

- Maiden of Vigilance

(H)

- Fallen Avatar

(H)

- Kil'Jaeden

(H)



Nighthold
- Skorpyron

(H)

- Chronomatic Anomaly

(H)

- Trilliax

(H)

- Spellblade Aluriel

(H)

- Tichondrius

(H)

- High Botanist Tel'arn

(H)

- Krosus

(H)

- Star Augur Etraeus

(H)

- Elisande

(H)

- Gul'dan

(H)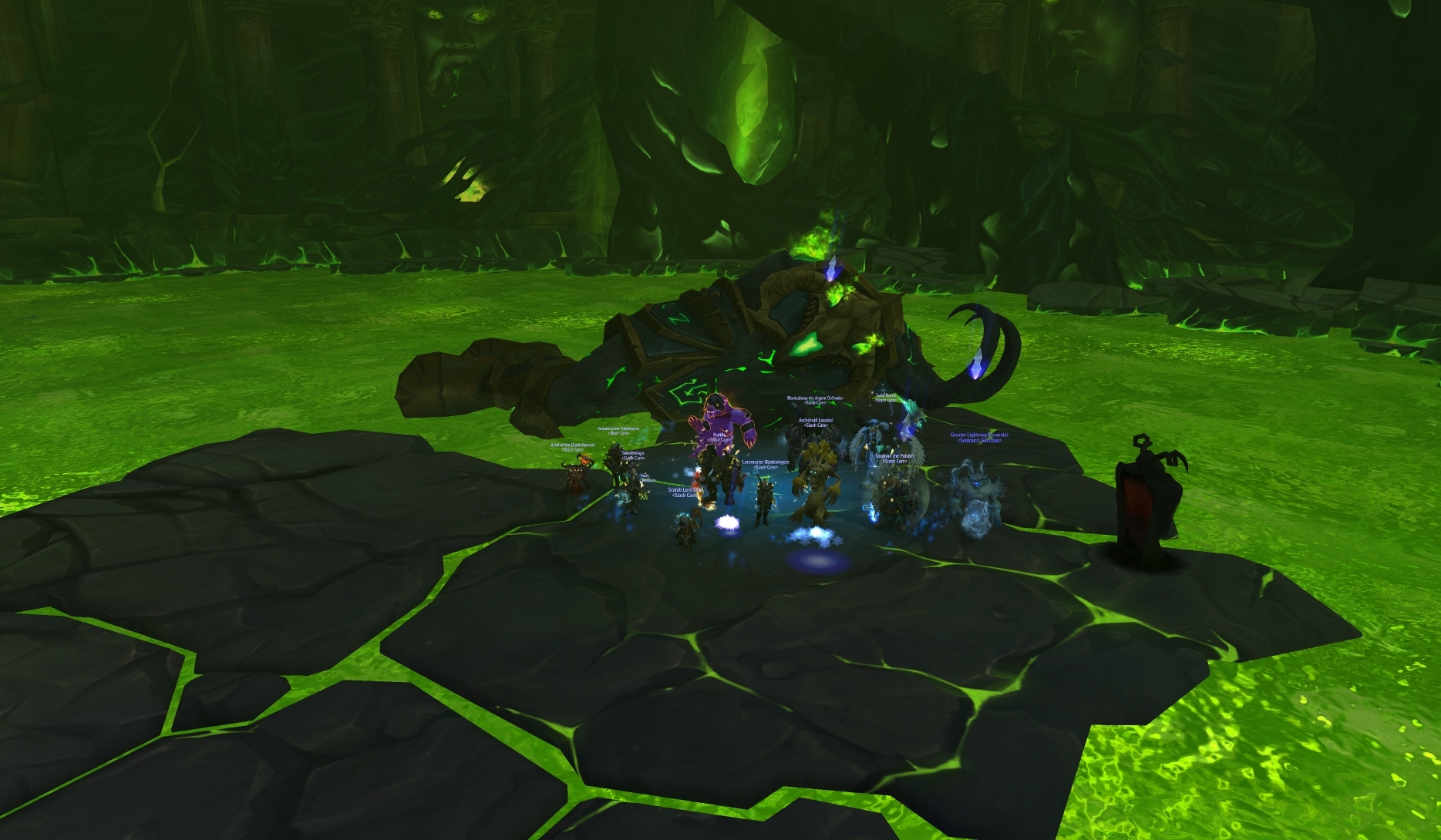 Dus, Fallen Avatar HC is dood. Tijd voor Kil'Jaeden!! Lets do this!
Aangezien
<
Slash Care
>
een normal & heroic guild is met 0 (zegge NUL) aspiraties om Mythic raids te doen heeft het einde van Gul'dan (
hier vast op video te bewonderen
) het tijdperk van slacken tot de Tomb of Sargeras raid er is aangekondigd..
Ons kennende zou het ook zo maar kunnen dat we de komende weken nog vaak zat keihard gaan falen erop, maar ook dat hoort erbij.
In iedergeval, Gul'dan HC dood, achievement behaald en nu voorlopig Nighthold farmen voor die
Heroic Titanforged
items.
En alt/social raids...
En dingen... vooral dingen..
Anyweg, screenshot toegevoegd, hoi Jarno!
Ja je leest het goed, onze guild heeft gewoon DE nummer 1 rank in de wereld! Op de fight waar menig guild op breekt, andere guilds het erbij laten zitten, of mensen gek worden van het heen en weer lopen, stonden onze raiders gewoon even kalm stil, bewogen wanneer ze moesten en deden wat er gedaan moest worden.
De mensen uit de betreffende raid zelf hebben last van Doxofobie
https://lmgtfy.com/?q=Doxofobie
maar het mag best is gezegd worden dat ze het gewoon heel goed gedaan hebben!
Feli aan het raid team van gisteren (alphabetische volgorde):
Aggion
Arixi
Bôts
Cakila
Deathskyedk
Dipsauce
Durca
Goldenraven
Nibbleness
Padilla
Paland
Seolram
Stoneclaw
Slash Care is weer aan het recruiten!
We zitten nu midden in de progress van heroic Trial of Valor, en het is tijd om ons roster weer wat aan te vullen.
De classes die we op het moment zoeken zijn:
Melee:
Paladin
Rogue
Shaman
Death Knight
Ranged:
Mage
Shaman
Hunter
Priest
Denk jij het in je te hebben om ons geweldige raid team te versterken? Schroom niet en maak een apply! Of whisper iemand ingame in de guild!